About 180 Design
Our Vision is to create a home you love to live in!
It begins with your dream… together we can successfully design a space that reflects your lifestyle.
Award Winning Interior Design
Ready to fall in love with your home?
180 design specializes in working with homeowners to create spaces with style and purpose. We offer a variety of design services to accommodate the vast design challenges our clients look to us to solve. From colour consultations, to hard and soft decor selections, to 2D and 3D AutoCAD planning, we are a great resource for Winnipeg's interior design industry.
No project is too big or too small for our excellent design services. We are honored to partner with you in creating solutions for your unique space. We operate with the utmost integrity and excellence in our work.
There are no hidden fees or surprise fees. 180 Design creates trust as you are in control of final choices and in the hours of investment amount you want to spend in the professional design of your home. With 180 design, you can have 100% confidence in our services.
From Inspiration to Reality, Lisa is there throughout the process giving you expert advice and guidance. 180 design will help you save time, money and effort to create a beautiful home with your style in mind. From concept to completion 180 Design is here to create a home you love to live in!
It is our joy to serve you!
---
Lisa's Story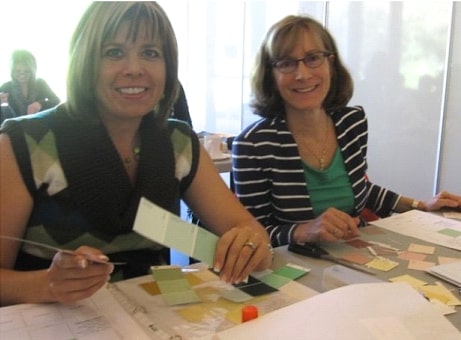 Lisa is Design and Decorating Specialist
Lisa's passion and joy are to create luxurious rooms that reflect the homeowner's unique & personal style. Before entering the field of decorating and staging, Loeppky was working as a dental hygienist when her husband, Dennis Loeppky, purchased a small furniture store called Furniture Plus in Steinbach in 1988.
It was several years before Loeppky joined the business as a decorator and stager because she didn't believe she had any artistic ability. After enrolling in an art class with a friend, she returned home with a gorgeous painting which established her status as a fine artist. Because Lisa had never painted before this experience changed her life forever. She realized that she had an eye for colour and creating. From that point on, she became fully engaged in Furniture Plus, using her abilities to add value to the business.
Together, Dennis and Lisa with their two children, Desiree and Leighton worked together in the furniture store serving South-East Manitoba and Winnipeg. During this time, Lisa began helping part time (while raising her family) as a purchaser to choose furnishings and décor for the store. Her ability to source and display beautiful furniture, art and accessories added a new dimension to the 20,000 square foot showroom.
At this time, many clients needed that extra help to put a room together. As demand for interior decorating services increased Dennis & Lisa realized a design service was needed to help clients design their spaces. Taking the name from the address from Furniture Plus on 180 Main Street, 180 Design was born!
Lisa started to take evening courses at Red River Community College and graduated with a diploma with honors in the interior decorating program. As her family and work schedule allowed, she travelled throughout the United States, Toronto, Alberta and BC, learning professional design, staging and expert colour consultant training with top notch designers and trainers.
All this training was to serve others in order to create beautiful rooms. As Loeppky became a design trendsetter for her clients, she offered in store interior decorating classes for Furniture Plus, Community Events, Ladies Groups, Charity Groups and Dufresne stores in Manitoba. With her love for colour, Lisa excelled in learning about colour consulting providing the latest colour trends for her clients' projects
Lisa Loeppky – training as a Maria Killam - True Colour Expert
Here Loeppky learnt the perfect system for specifying colours and understanding undertones. She became certified in the field of colour because every design project started with the ability to bring colours to life in creative ways.
---
As the business grew, the demand for staging from builders, house flippers and real estate agents became apparent. Lisa took on professional courses in advanced staging. As a Canadian Staging Professional, she helped builders win accolades of gold, silver and bronze in the parade of homes. Home owners and house flippers could have peace of mind knowing their homes were ready for a successful sale.
Since Furniture Plus was selling appliances for kitchens Lisa went on to study at Red River in 20- 20 kitchen design and eco-friendly design. This led to her purchasing Chief Architect AutoCAD Pro. Fearlessly, Loeppky went on creating 2D and 3D designs with what she learnt to help her clients visualize the home of their dreams. Now her clients could see their homes before lifting a hammer and know exactly what to purchase to with confidence. Lisa's joy was increasing as she learnt how to provide beautiful renderings for beautifully designed spaces.
Loeppky often saves clients time, frustration and money with a 2-hour comprehensive consultation by re-using and re-purposing things in a way they never would have imagined. Clients love it when special pieces they own become incorporated into their home as a unique signature element. Clients exclaim: "WOW! I never would have thought of doing that!"
Because of her bubbly personality, 180 Design has been showcased on television as a DESIGN and DIY EXPERT.
Lisa Loeppky on the Mark & Mandy show
In 2017, Dennis and Lisa sold Furniture Plus. But…Lisa's passion for decorating could not be contained so she decided to open her own design studio in her home to continue her joy of creating beautiful spaces. 180 Design has been operating with integrity and excellence ever since. Lisa's mantra is to joyfully create an environment in which her clients can enjoy for years to come. Her aesthetic is to provide timeless decorating that is functional, clean and classic with a twist of "YOU-ique" creativity.
"Having a well-designed home will bring you JOY!"
~ Lisa Loeppky~
---
Community Work
Lisa believes in giving back to the community. She volunteers on the Red River Community College Interior Decorating Committee Board to help oversee the program for the RRCC Decorating Students. As of January 2016, Lisa was elected the Chairperson of the Board as of January 2016 and until now. She continues to support the upcoming new trendsetters in the design industry. Lisa's passion to help people has led to several projects where she has volunteered to design, help furnish and accessorize spaces such as nursing homes, women's shelters and persons with intellectual disabilities. Some of her favorite projects included working with Agape House, Envision, Habitat for Humanity, Siloam Mission/Madison House and Ronald McDonald House, 55 Plus Condominiums and assisted living.
As a speaker for events, Lisa inspires others on how to create beautiful spaces. Lisa believes every home can be beautiful regardless of budgets or room layout challenges. Topics that she loves to talk about are: Home Decorating, Use What You Have Decorating, Colour Confidence, How to Create a Room that Rocks! How to Stage Your Home and one of her favorite seminars is about Creative Christmas Decorating.